You can now catch Darren and Alister in all their technicolour glory over at Eight Black (click on the appropriate pic to watch the video).
Well, that was lots of fun 🙂
The first Video (Alex Shiels) is up at Eight Black with more to come soon.
You can browse through a nice collection of piccies on Flickr (tag yours wcm07).
And of course there are some bookmarks (also wcm07) .
And we'll be setting up a WordCamp group soon… somewhere… for the next one and maybe as a start of a Australian WP community… any suggestions (first person to say Facebook gets their comment deleted 😉
I'm not sure why 😉 But we do… and here it is.
So here's the plan… you bring along your cameras, video thingys, audio recorders and talents… post the resulting masterpieces wherever you fancy and we'll embed them and link back to you from here.
Who knows, we might be able to patch up a 'whole of camp' archive.
It's the opportunity of a lifetime – do our work for us 😉
Well, there you go… it's a sellout.
The Upcoming guestlist is now closed – if you haven't registered there and you still want to come please contact us to see if we can squeeze you in (might not be possible).
The full schedule for the day is now available here (.pdf).
Yes, I know it's a little late but of web years are the same as dog ones we've still got like 9 weeks to go [NB: Don't take that too seriously – 9 days really]
So, tomorrow we'll have a more fleshed out program but today we've got some buttons and some good stuff that you'll be getting at the event!
First up – sidebar buttons for those of you who want them: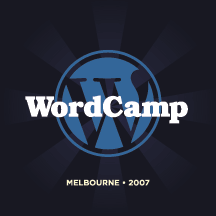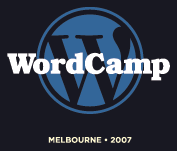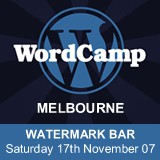 Secondly news of all the funky stuff on offer to attendees (remember it's only $25!)… there are 2 4 Gig iPod Nanos as door prizes courtesy of Eight Black and an unspecified number of WordPress T-Shirts (I, erm, missed the delivery) and stickers for everyone courtesy of Automattic – huge thanks to both generous mini-corps 😀
Finally, and more importantly is that we're almost sold out – if you haven't registered on Upcoming do so now as we should close it when that gets to 50 and we'll *definitely*close it when it gets to 60 as that's all the space we have.
Thanks to everyone who's got in touch and helped to spread the word so far… we've got 24 RSVP'd so need another 26 more (plus 10 extra for safety) so keep it up!
We're delighted to announce today that we've got a most excellent supporter, Simon Chen from Eight Black is donating towards both the venue costs and drinks afterwards (as well as chucking in two 4 Gig Nanos for door prizes!), many thanks Simon 🙂
And we've also got a program of sorts – with confirmed speakers including Darren Rowse (Problogger & b5media), Alex Shiels (Automattic) and Christine Davis (Ultimate Tag Warrior) together with some great roundtable topics… but please feel free to nominate yourself to facilitate a roundtable or suggest a topic that should be covered by one.





Roundtables will either be facilitated by someone with an interest and expertise in that area or will be open slather around a designated topic.
Roundtable Topics so far include:
Profiting by selling plugins
Developing WordPress into an intranet

The new black – magazine themes and WordPress as a CMS
WordPress for non-profits
Embedded third party applications within WordPress
Please contact us for new roundtable themes or if you'd like to facilitate one.
WordCamp Melbourne is go!
So…
Block out Saturday November 17th in your diaries from 12:00PM – 7:00PM… and join us for drinks afterwards.
Register on Upcoming so we have an idea of how many people are going to make it
Contact me with your ideas for presentations and roundtables – presos will be a max of 20 mins and roundtables, a max of 60.
Subscribe to this feed to get updates.
The event will be held in the Watermark bar (eerily similar 'W' logo!), Victoria Harbour, in Melbourne's docklands – more info (maps etc.) here.
The price on the door will be $25 and the event will be strictly Profit-for-Beer in that once we've covered the lease of the venue and all your party pies, we'll put the rest on the bar.
And finally, if you know of (or if you are!) any kind organisations or individuals who'd like to support the consumption of beer and said pies, please get in touch.